Strong Foundation Childcare
StrongFoundationCC@yahoo.com
231-943-2200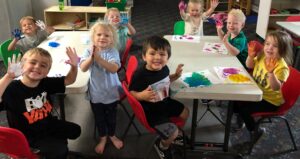 We are excited to announce a new ministry location coming soon! Still within the Pine Grove neighborhood. Strong Foundation Childcare is a ministry of Pine Grove Church. Pine Grove Church and Ministries believes in investing time and resources into people to help make positive impacts in their lives. One of those ways is through our non-denominational Christian Childcare Center providing care for children ages 0 to 12. We are excited to help families with their childcare needs!
Strong Foundation Childcare believes in providing each child with quality care by providing a program designed to meet each child at their developmental level. We want to partner with families to promote a positive self-image, a sense of belonging and a love of learning for your child. We believe in a play-based classroom providing organization and structure while allowing children to explore areas that interest them within these parameters. Our staff will provide new concepts and ideas through individual conversations, large group discussions, role modeling, small group activities and hands-on learning opportunities. Small group time consists of activities allowing for fine motor development, science experiments, math and literacy lessons. We also provide a quality education based on Biblical perspective.
To check availability or be placed on a waitlist please contact our director Jessi at 231-943-2200.
Our weekly rates are $285 for infants (0-18 months), $270 for toddlers (18 months through 33 months) and $235 for preschoolers and School-aged (33 months through 12 years old). Daily part-time rates are $70 for infants, $63 for toddlers, and $55 for preschoolers. Children can move to the Preschool room once they are 33 months, however their tuition rate will not change until they are potty trained.
We require all children to be up to date on their immunizations.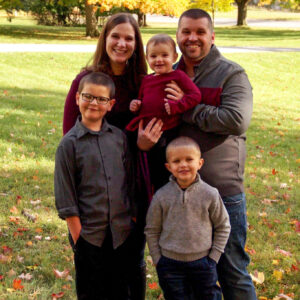 Jessi Hoard is our program director. Jessi has a Bachelor's Degree in Family Studies and has over 15 years of experience working with children in various aspects. She and her husband have two energetic boys and a delightful baby girl.
Jessi would love to answer any questions you may have about Strong Foundation Childcare. Please e-mail her at Strongfoundationcc@yahoo.com or telephone her at 231 943-2200.
"I highly recommend Strong Foundations. I was a new working single mom and a wreck about sending my kids to daycare! Thankfully Jessi opened Strong Foundation's! I used to teach next door to Jessi the director, when she was at TCAPS before I had the girls. I knew her style and her never ending passion for educating young children. We are now good friends and I am so thankful for the relationship we have and the relationship she has with my girls! My children attended Strong Foundation from the very first day they opened until this spring. My girls were in their infant, toddlers, and preschool programs! The brightwheel app gives you constant updates and pictures while they are there. We have had nothing but great experiences!"
-Amelia Wassermann
"Strong Foundation Childcare was like a second home to my infant. She attended from 5 months until she was 21 months. The amazing ladies taught her so much, cared for her as if she was their own and kept this momma heart at ease! Our little never wanted to leave at the end of the day. They helped us throughout the process of transitioning to solids (I was terrified) and would send me videos of Sloan while she was eating to ease my mind. It was always very easy to get ahold of the ladies during the day with any questions or concerns I may have had or just to check in on Sloan. We received many pictures throughout the week of her playing and learning. The only reason we left was because we were moving. The last day with Strong Foundation was a very sad one! We all shared some tears and realized more than ever that it wasn't just Sloan's daycare, it was a bunch of second moms who loved, cared for, and taught her immense amount of things. We owe a lot of who our little girl is to the incredible group of ladies that make Strong Foundation such a wonderful place. Words aren't enough to express our love and gratitude for them. There was never a doubt in our minds that she was happy, well taken care of and SAFE. Thank you all!"
– Love, the Gowells